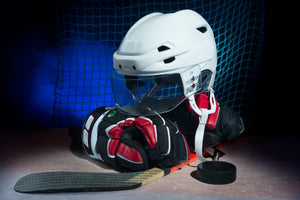 Tips for Buying New Hockey Gloves
If you're playing hockey, a good pair of hockey gloves should always be on your wish list. Hockey gloves are an extremely important piece of hockey gear - protecting your hands from sticks, flying pucks and unforeseen ice burns. With all the choices available in today's market, we understand that making the right decision takes time. That's why we've created a cheat sheet of the most important things to consider:
How Often Do I Need to Change My Gloves?
Back in the day, gloves were made of high quality thick leather for protection and fit.  It use to take months to work them in, and even then, years before the main glove would break down.  You use to re-palm them a couple of times before you needed to buy new ones!  Today, gloves are ready to go day one!  That is great, however, the downside is that they breakdown quicker, and so they become looser, torn, and loose their protective value.  Today, players who play often usually replace their gloves every year or two.
Let's take a look at the four factors to consider when purchasing new gloves:
Price
Okay, first thing first, you need to know how much you can afford to spend. While most mid-priced gloves may cost you in between $70-$100, it is important to think about the functionality of each one and how it'll fit into your lifestyle. For instance, if you play often, investing heavily in an item that may only last you a year is not the best idea. If you're purchasing the gloves for a child, remember that they can outgrow their equipment quickly over the year, so a higher price point is not recommended.
While $200 gloves may be more comfortable, all hockey gloves can stay quite durable if they are properly aired out after each use. The key is to find a balance between quality, comfort and a comfortable budget.
Comfort
Now that price is out of the way, comfort is one of the key factors when it comes to your performance. Feeling too hot, too cold, too constricted or feeling like your gloves are about to fall off, is not a good way to enjoy the game. The comfort of each glove will vary from person to person, so make sure you choose a pair that's comfortable for you and only you. 
Make sure to pick gloves with enough padding, a thicker shell, durable leather on the palm and a flexible thumb configuration. 
Fit
A glove should fit "like a glove," it's that simple. If the gloves don't fit just right, you hinder your ability to handle the puck, make passes and most importantly, score goals! 
One tip for a great fit is that your fingertips should not touch the end of the glove. This is because the space left in between is meant to protect you from injuries such as flying pucks and unforeseen slashes. 
Colour
Teams often choose to get matching colours when playing in leagues. While this is not as important as the other three considerations, choosing gloves that match your team colours allow you to not only stay safe but show your dedication to your team!
Safety should always be your number one priority when choosing hockey equipment. That's why all the equipment available on Twig Shack is equipment that we swear by. 
If you are in the market for your first pair of gloves or a new pair of gloves, we would highly recommend visiting our glove section.  All of the models come equipped with a standard lock thumb system which keeps your thumbs from bending backwards. You can shop now by clicking here.
---